Bandstand: Ilkley Bandstand 2000 Trust
The Bandstand is located in the centre of Ilkley. It is on the southern side of The Grove which is a picturesque tree lined street of elegant shops and is directly opposite Betty's famous tearooms. The Bandstand is surrounded by well kept gardens with permanent seating for those wishing to enjoy the performance.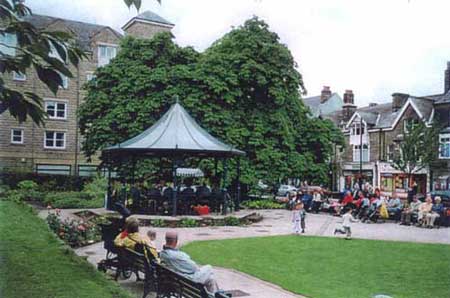 It is available for use by musical groups of all kinds or any other suitable organisations. For example, Macmillan and Marie Curie Fund Raising events or Scout Parades. For those wishing to use this popular venue, please contact Martin Smith 01943 602178 0r 07748 931942.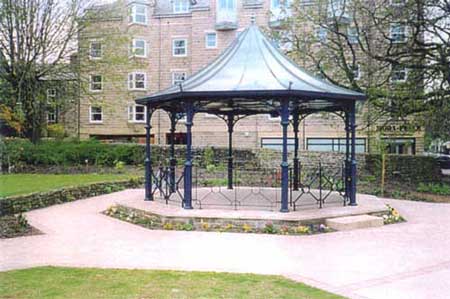 The Bandstand was conceived as a millenium project by the two Rotary Clubs of Ilkley and completed in 2001. The site was generously donated by the Ilkley Abbeyfield Society and both organisations, together with Ilkley Parish Council retain a keen interest as Trustees. An active management committee of volunteers run the bandstand and gardens on a day to day basis. They aim to provide appropriate entertainment for residents and visitors alike.
Ilkley Bandstand bookings 2023 Programme 8 May version 7**
Date
18 and 19 March Marie Curie Great Daffodil Appeal 8am to 6pm collectors base only
29 April Sat Route 65 rock 11-14-30pm
26 April Wed Rock Choir 4-30 to 5pm
6 May Sat KING Charles III CORONATION
7 May Sun White Rose C Band 2-4pm
13 May Sat Guiseley Jazz 12-30-2pm
13 May Sat Ilkley bid crier comp 11-12-30 and 2-30 onwards
14 May Sun Roots alive 11-4pm
20 May Sat B Rhydding Clarinets 2-4pm
21 May Sun Bettys Bike race 10-30-2-30pm
27 May Sat Guiseley brass Band 2-4pm
28 May Sun Chevin Jazz 2-4pm
3 June Sat Hornados sax 12-3pm
4 June Sun Mark Gregory singer 11-1pm
4 June Sun Unity Ukes 1-3pm
8 June Thurs Buttercross Belles Morris Dancers 7-30PM
9 June Friday Fairfax Singers 2-3pm
10 June Sat Ten Fields 12-30-4pm
11 June sun Timewarp band 2-4pm
17 June Sat Guiseley Jazz 2-4pm
18 June Sun Fresh Aire Band 2-4pm
24 June Sat The Sheds 60's songs 1-3pm
25 June Sun Hurricane Blue 2-4pm
30 June Friday Ilkley Cycle Race 1Km 2pm to 10-30pm
1 July Sat Route 65 rock 12-30 to 3pm
2 July Sun Mustard County 1-2-30pm
8 July Sat Martin House 2-4pm
9 July Sun Two Rivers swing 2-4pm
15 July Sat Timewarp ensemble 2-4pm
16 July Sun Two Rivers sax/woodwind 2-4pm
22 July Sat Guiseley Jazz 11-1pm
22 July Sat Noteability Con Band 2-4pm
23 July Sun Bradford Con Band 2-4pm
25 July Tues Age NO Concern band 11-12noon
29 July Sat Jazz lyrical 11-12
30 July Sun Anchor big band 2-4pm
5 Aug Sat Stray Horn Sax 2-4pm
6 Aug Sun April Grimes singer 1-3pm
12 Aug Sat Daisymen 1-2pm
13 Aug Sun Dct Bob bluesmakers 12.30-4.30pm
19 Aug Sat Timewarp band 2-4pm
20 Aug Sun Soul Jazz 2 11-4pm
26 Aug Sat Guiseley Jazz 2-4pm
27 Aug Sun Hurricane Blue 2-4pm
2 Sept Sat Noteability C Band 2-4pm
3 Sept Sun Soul Jazz 2 11-4pm
9 Sept Sat New Horizons D band 2-4pm s
10 Sept Sun Fresh Aire Band 2-4pm
16 Sept Sat Mark Gregory singer 1-3pm
17 Sept Sun Hurricane Blue 2-4pm
23 Sept Sat Guiseley Jazz 2-4pm
24 Sept Sun Salsa Como loco 11-1pm
30 Sept Sat Clifton Lightcliffe Main 2-4pm
1 Oct Sun Hornados Sax 11-3pm
Moornotes and Hornadoes around Christmas Town lights 25 Nov approx.