Bandstand: Ilkley Bandstand 2000 Trust
Christmas Activities
10 Dec Moornotes choiral carols for 15 mins between 2-4pm
18 Dec Hornados saxophone group christmas style popular music 12-30 till 2-15pm
The Bandstand is located in the centre of Ilkley. It is on the southern side of The Grove which is a picturesque tree lined street of elegant shops and is directly opposite Betty's famous tearooms. The Bandstand is surrounded by well kept gardens with permanent seating for those wishing to enjoy the performance.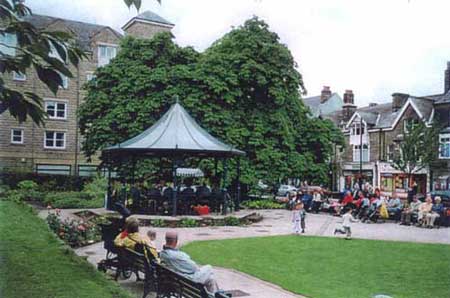 It is available for use by musical groups of all kinds or any other suitable organisations. For example, Macmillan and Marie Curie Fund Raising events or Scout Parades. For those wishing to use this popular venue, please contact Tony Gilroy on 01943 609 077.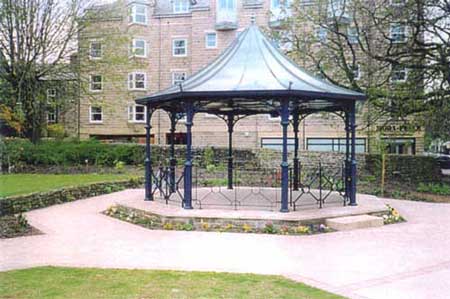 The Bandstand was conceived as a millenium project by the two Rotary Clubs of Ilkley and completed in 2001. The site was generously donated by the Ilkley Abbeyfield Society and both organisations, together with Ilkley Parish Council retain a keen interest as Trustees. An active management committee of volunteers run the bandstand and gardens on a day to day basis. They aim to provide appropriate entertainment for residents and visitors alike.
Ilkley Bandstand 2000 Trust Charity 1083825
Ilkley Bandstand 2 May 3pm
World renowned singer with an impromptu extra date on her tour at ILKLEY.
" Singer songwriter Jessica Lee Morgan will be hosting Ilkley Fringe on the Ilkley Bandstand this May 2nd - Bank Holiday Monday afternoon.
Jessica is a singer-songwriter accompanied by Christian Thomas on bass.
She last played in Ilkley in 2019 at The Black Hat and Ilkley Carnival.
Jessica is delighted to revisit during a break from supporting Robyn Hitchcock on tour, she has recently supported and played in the band with Tony Visconti's Best of Bowie up and down the UK and comes prepared with songs of her own and other classic songs you'll know and love.
She invites other music makers to join her on the bandstand 3pm onwards, open mic / unplugged / semi acoustic / etc..Whatever you'd like to do….however we won't have PA capacity for a full band..
Please let us know…if you fancy coming along to play…Jim 07974436686 "
Picture https://www.dropbox.com/s/dx4pd6s8zgv4nf5/Jessica-Lee-Morgan-by-Christian-Thomas-7.jpg?dl=0
Video https://youtu.be/7E_zTP0s0wM
Website https://jessicaleemorgan.com/
Preview YouTube video Waiting To Leave - Jessica Lee Morgan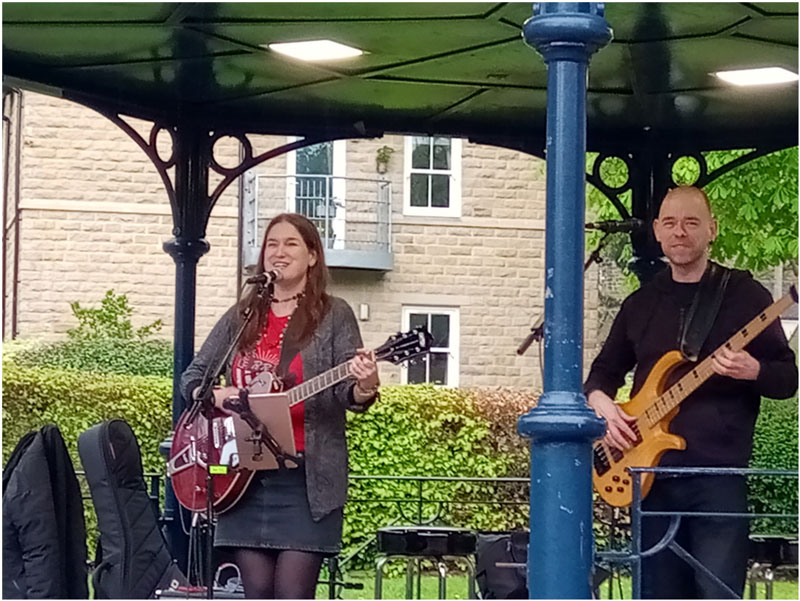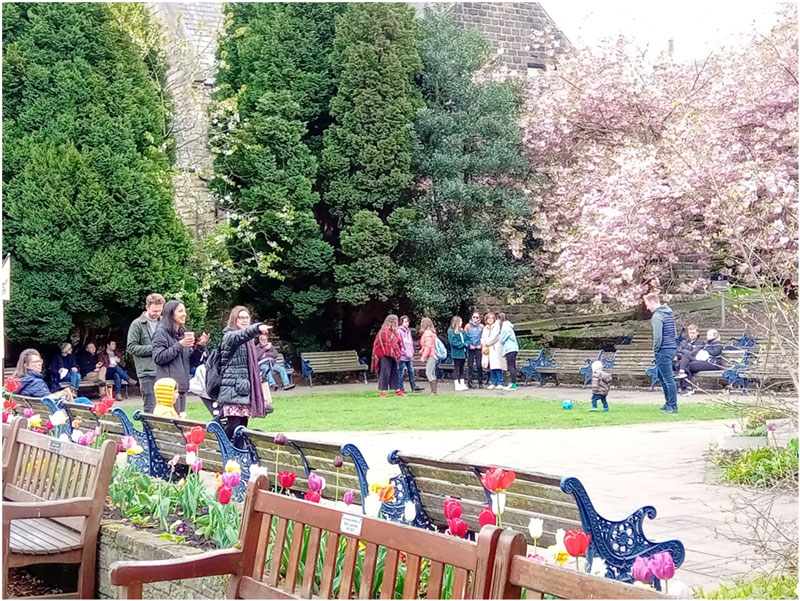 Ilkley Bandstand 2 May 2022
Jessica Lee Morgan performance on the Bandstand
Carnival was great also the Ilkley fringe at the Ilkley bandstand on the Grove at 3pm Sunday.
At very short notice, during her tour of UK we arranged the 3pm session for Jessica Lee Morgan daughter of Mary Hopkins " those were the days," and base player .
Although the crowd returning from the carnival gathered the rains came but those that stayed enjoyed a great performance of her work for over 1.5 hrs .
Webpage: https:// jessicaleemorgan.com/