Ilkley.org
Local Volunteers Needed in Ilkley
Turn Spare Time into Lifesaving Research with the British Heart Foundation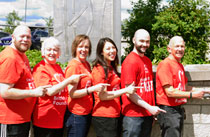 The British Heart Foundation (BHF) is appealing to the local community to give the gift of time and sign up to its volunteering programme to help in the fight for every heartbeat.

Local volunteers are needed to support our current fundraising in the area by organising, coffee mornings, afternoon teas, garden parties, collections, walks and fashion shows.

Sue Green, Fundraising Manager for the BHF in Wharfedale said "It's all about doing what you enjoy to raise vital funds to support the British Heart Foundation, bringing our local communities together and to be the local fundraising group for the area. Volunteers are absolutely integral to the success of BHF and play a vital part in helping us support more people affected by heart and circulatory conditions. We appreciate every minute people can spare and hope that in return our volunteers gain a lot from working with us."

Giving time doesn't just benefit the BHF but also gives volunteers the opportunity to build, develop and learn new skills, work towards qualifications and gain experience whilst knowing they are doing something amazing in the fight against heart disease.

Around 57,380 people across Bradford are fighting a daily battle with heart and circulatory disease. Each year these devastating conditions claim the lives of more than 1213 people in Bradford alone.
Surgery techniques can still be improved. Many babies still struggle with a congenital heart defect. And there are exciting developments in genetics and stem cell technology yet to be found, which could revolutionise the treatment of many heart conditions.

With your support we're continuing to fund research that will hopefully make the difference for millions of people in the UK and many more around the world. You can help us keep making breakthroughs by volunteering today.

For more information on volunteering opportunities in Ilkley, please contact Sue Green on This e-mail address is being protected from spambots. You need JavaScript enabled to view it , tel. 01274 548324 or Hannah Saxon This e-mail address is being protected from spambots. You need JavaScript enabled to view it , tel. 07714 069135, or visit www.bhf.org.uk/volunteer
If you would like to publicise your community events on Ilkley.org please get in touch with the This e-mail address is being protected from spambots. You need JavaScript enabled to view it to register as a user.
Local not-for-profit and community organisations can create their own events listings on ilkley.org, advertising them to the local community.
Would your community organisation like its own website on Ilkley.org?
If you run a community organisation and would like to have an easy-to-update website on Ilkley.org, please get in touch with the This e-mail address is being protected from spambots. You need JavaScript enabled to view it .
We can help you create your own website hosted on Ilkley.org which uses the Joomla Content Management System. This means you just need a web browser and a fast broadband connection to build and update the website.
Grants towards the cost of building the website and training your volunteer content writers may be available from the Ilkley Parish Council awards scheme.
Welcome to the new Ilkley.org
We have redesigned this website to bring it up to current standards and to make it easier for many people in and around Ilkley to contribute to its content, growth and development.
We welcome comments about what you like or don't like on the new site. Constructive suggestions about changes or new features are very welcome. Please This e-mail address is being protected from spambots. You need JavaScript enabled to view it
This is the first and largest of 12 Wharfedale Online Trust websites to be re-designed and to go live, funded by an Ilkley Parish Council grant. Others will follow in phases over the next six months as groups of users are trained. The first two in April 2010 will be summerfestival.ilkley.org and parishcouncil.ilkley.org. Please This e-mail address is being protected from spambots. You need JavaScript enabled to view it if you would like your community group to be next. See "About Ilkley.org" on the left for the detailed timetable.
Wharfedale Online Trust 31 March 2010